Cebu Rent A Car competes in the business of Rent a Car for an inexpensive rates with customer satisfaction guaranteed. A Rent a Car company with very convenient and affordable top-of-the-line transportation service giving ease and satifaction. Over the years, the company is trusted with many different clients coming from different coutries providing safe, and enjoyable travel all over the island of Cebu and out to provinces of the Philippines. Brand new and highly maintained transportation units giving our customers the satisfaction they need as well with our accommodating, pleasing and respectful drivers available 24/7. Cebu Rent A Car is the best car rental for people who are always on-the-go. Planning to go to occasion, meeting, appointments or vacation on a relaxing resort or leisure places, we are always after with our commitment of making our costumers safety and security whenever and wherever. Check our transportation units below:
Cebu Car Rental
Are you looking for a car rental service within Cebu ? Well, Cebu Rent A Car is the answer to it. We offer the best service that you guys are expecting to. And we just don't allow you to travel with a vehicle that is so inconvenient on your side. As part of it we give you the best transportation units that will make your journey so relax and most importantly suits the service that you need. Cebu Rent A Car is one of the best Cebu Car Rental services in Cebu. As our motto "Quality Service, is our Business", you guys must expect a high quality of benefits. Our transportation units comprises Toyota Hi-ace Commuter, Toyota Hi-ace Grandia, Toyota Innova, Toyota Altis And Toyota Vios. Each vehicle have its own driver, a professional driver that gives your travel more secure and more convenient. And if you are a first timer, our drivers on the other hand can also be your tour guide and they are very much used and informative to our local destinations and as well as history, no need to hire a professional tour guides anymore. We guarantee you that those drivers we hired has a pleasing personality, approachable, multi-tasking and well discipline. And further more we offer an affordable service that suits your budget. And we don't stick on a saying that "What you pay is what you've got". We treat our fellow clients in same way. Either you have the most expensive kind of service or the most affordable one, your benefits are still the same.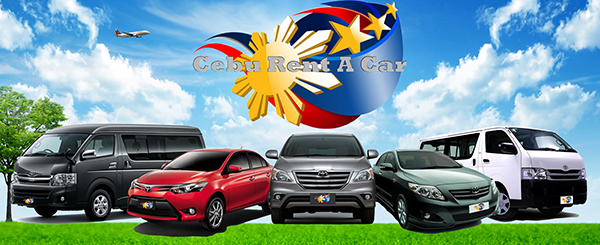 This
Cebu Car Rental
offers you a 24/7 service. Our service includes weddings / honeymoons, sightseeing, personal tours, security escorts and airport / pier transfer. Either you're with your family, colleagues, or friends that doesn't matter to us. We just want you to experience and make your journey an awesome one. And if you guys wondering if this transportation units that we offer are brand new ? Well, Yes. They are obviously brand new and not a second hand, it is because we just want to make sure that on your way to your desired destination there will be no problem along with it. We don't even want you to be hassle or to test your patient. We just want you to enjoy, make it memorable, and be secure. We just want to be a part of your day, even a part of your special events like wedding, out of town birthday party or simply a tour. We just want to be your best chaperon on that day.So if you're a kind of interested with us. Feel free to contact us or visit us at our official website @ www[dot]ceburentacar[dot]com. You can like us on facebook, or follow us on twitter. And remember, always, that what we uttered here are not just for words but for actions. "Actions speaks louder than voice" well, we insanely believe on that quote. So what are you waiting now ? Give us a try and we guarantee you to be our regular costumer ( suki ).
Cebu Rent A Car
is just a one of a kind
Cebu Car Rental service
that Cebu have.