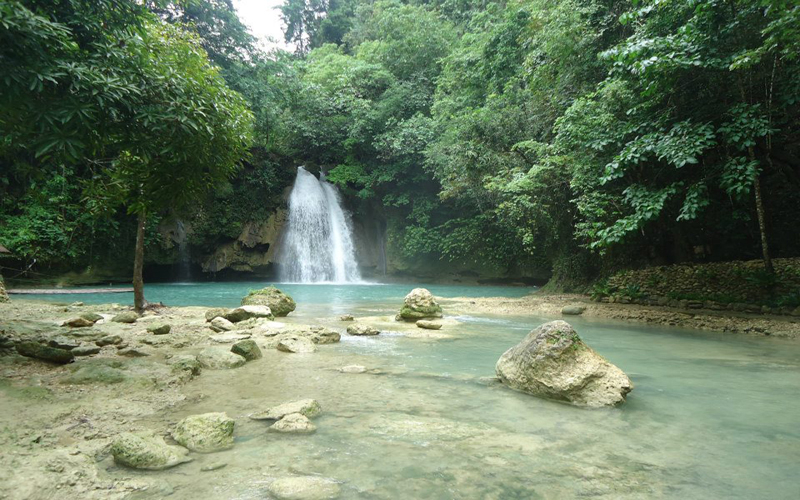 Kawasan falls Cebu is a peaceful wonderful place where you can enjoy numerous waterfalls of natural spring water situated close to the southern tip of Cebu Philippines.
A delicate hush of rushing ice cool water. Just 130 kilometers southwest of Cebu City, the Kawasan Falls is found inside the mountains of Barangay Matutinao, Badian.
Kawasan has numerous waterfalls. The first is the biggest of the three, and is generally the most crowded. A uphill climb for 15 minutes will take you to the second falls, and another, and another.
Bungalows (1,500 to 2,500 php) and tables (500php) are additionally accessible for rent, the rooms are for overnight stay. You can rent a raft (300 php) to take you around the "pool" or for a refreshing "shower massage" under the falling water. Life vests are likewise accessible for rent.
The pathway back is extremely dark once the sun sets so it?s best to carry a flashlight. You ought to be additional cautious in going down the slope particularly the one descending from the second or third falls to avoid accidents or mishaps.
Kawasan Falls is a great get-away destination in the southern part of Cebu for families and social gatherings.
Getting There: First step is to get to the Cebu South Bus Terminal and ride a bus bound to Badian or Moalboal. Ask the bus conductor to drop you off at Matutinao Badian Church or the drop off point for Kawasan Falls. From there, you can start trekking to Kawasan Falls. It is 1.5 km away from the highway, 15-30 minutes trek. You will be met by tour guides who would offer to walk you through the water falls or help you in carrying your things. If you are not familiar with the city and doesn't know where it is located, you can always rent a car in Cebu for convenience in travel. A lot of car rental service in Cebu are offering tours in this area. In going to Badian, you may wish to pass by Mantayupan Falls on your way to Kawasan Falls too.
More Pictures: